WELCOME to MissRoseMarie.com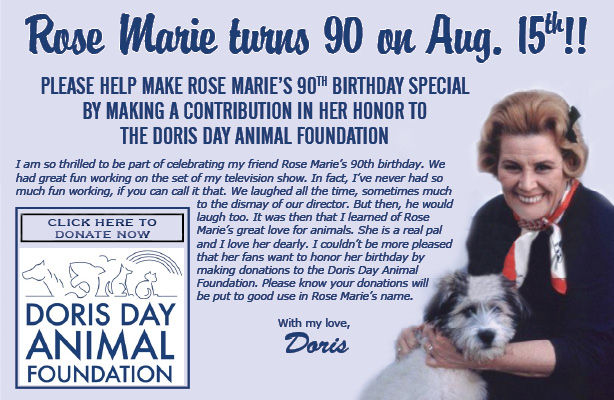 Rose Marie Tells Fans Not To Send Gifts for her 90th,
Rather To Donate To The Doris Day Animal Foundation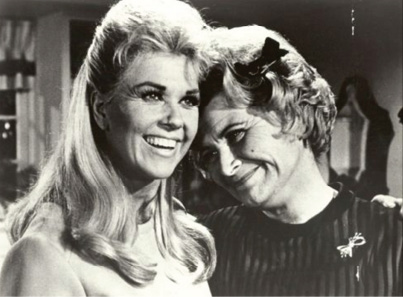 "Its been one very long performance and the dating prospects are not looking any better at 90," says Rose Marie who has chosen to celebrate her August 15th birthday by asking fans to help her TV co-star and dear friend, Doris Day, with donations to the Doris Day Animal Foundation (DDAF). "It is the finest organization that I know, taking care of God's finest creations - animals," remarks Miss Marie. The staff at DDAF have set up a special donation page just for Rose Marie's fans to make contributions in honor of this milestone birthday.

FOR STORIES, VIDEOS AND PHOTOS FROM HER 90th - CLICK ON THE PHOTO
---
For over 80 years Miss Rose Marie's husky-voice, good looks, and comedic timing have entertained us. Rose Marie started her career at the age of 3 by starring in several of the earliest talking films, beginning with the 1929 short, Baby Rose Marie the Child Wonder, which theaters screened before feature films. She worked with all the greats of vaudeville, theatre, radio, television and film. She had a brief Broadway run in Top Banana, made numerous guest appearances on all the hottest shows of the day, starred in several television shows, including The Doris Day Show, and The Dick Van Dyke Show which made her a household name. She is the only original member of the hit game show Hollywood Squares to have been part of all of its reincarnations. As part of a singing and comedy act called "4 Girls 4," she toured extensively with Rosemary Clooney, Helen O'Connell and Margaret Whiting and recently released her best-selling memoirs Hold The Roses.
In recognition of her amazing career and her contribution to the world of entertainment, Rose Marie's trademark black hair bow and numerous other items from her career are enshrined in the Smithsonian's Museum of American History.
Thanks for stopping by. Enjoy your visit.
This video features Rose Marie and her "Old Friends" from The Dick Van Dyke Show
"Old Friends" is sung by Rose Marie's good friend Rosemary Clooney