Rose Marie and the "4 Girls 4"
For eight years, Rose Marie toured with an act called "4 Girls 4" which starred (in alphabetical order) Rosemary Clooney, Helen O'Connell, Rose Marie and Margaret Whiting. Frankie Ortega was the groups arranger/conductor. The act sold out theatres all across the country and broke numerous house records. The show saw each "girl" presenting a mini-concert of their hits/act and then joining in a finale of "Together." The years on the road solidified strong bongs between Rose Marie, "Cloon" and "Miss Showbiz" a.k.a. Maggie.
To learn more about this phenomenal act - please visit the multi-media feature
The Story of 4 Girls 4 by Matt Connor at The Rosemary Clooney Palladium
The "4 Girls 4" on an episode of "The Mike Douglas Show"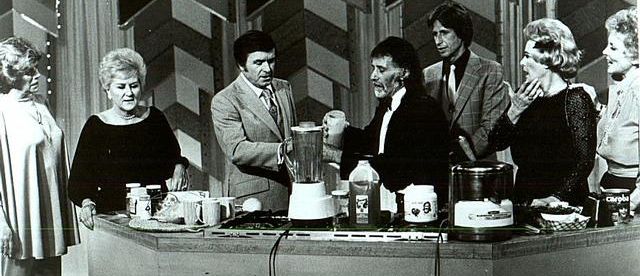 Following is an except from an article by Diane Werts for The Dallas Morning News, March 11, 1979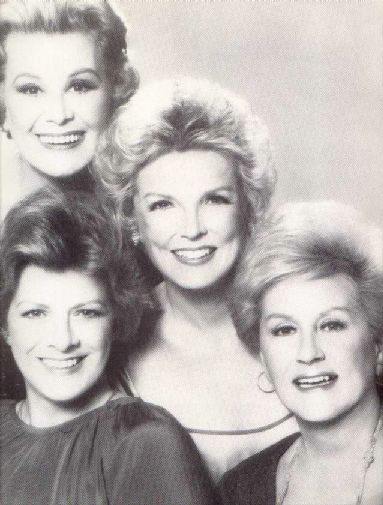 4 Girls 4
"The four of us together is great"
The women of '4 Girls 4' are finding life with each other fantastic
Over tea, coffee and orange juice this week, the four "girls" of 4 Girls 4--Rosemary Clooney, Rose Marie, Helen O'Connell and Margaret Whiting--learned why their club act is so successful. Margaret came out with the answer, "I think the secret of this is it's really very contemporary. I mean we're all hip ladies."
"We are?" asked Helen in surprise.
"We're very hip ladies, we're today," Margaret continued. "I don't care about yesterday. I only care about today and tomorrow. I take my mistakes from yesterday and make 'em work for today and tomorrow." It didn't take the others a second to respond. Their voices went up in unison.
Rose Marie reached for a pen: "I gotta write that down."
Rosemary agreed: "I want that oo, I want that immediately."
Rose Marie was ready to take it down: "Say that again."
But Margaret was unmoved, "No matter what they say, they all feel the same way," she insisted. "No matter how they put me down, they do."
"'I take my mistakes--'" asked Rose Marie, pen in hend. Margaret was still creating quotes. "Make every day a triumph, I don't give a fig about yesterday." "Fig" brought great laughter. "You're writing it down," Rosemary told Rose Marie. "I know that you will give me a Xerox, won't you?" "Oh, God help me," said Margaret. "This'll come back a thousand-fold."
That's life on the road for the four women who make up 4 Girls 4. There's constant chiding each other about statements and making fun of each other's mistakes; and there's passing on a touching song lyric to the others, trading talk about children's weddings and remembering the inconveniences of losing luggage. There's never a quiet moment because they're never out of anything to talk about.
With their backgrounds, how could they be? Rosemary, the small-town girl from Kentucky, made it big in records with Come On-a My House and in movies with Bing Crosby in White Christmas. RoseMarie began singing at 3 as "Baby Rose Marie" and evolved into the well-remembered comedian of The Dick Van Dyke Show and Hollywood Squares. Helen was a star of the big bands, singing with Bob Eberly and Jimmy Dorsey, and later hosted TV's Today show. Margaret, the Hollywood-bred daughter of composer Richard Whiting (Hooray for Hollywood, Sleepy Tim eGal, On the Good Ship Lollipop), earned more than 10 gold records with both popular and country music songs.
They could talk about all that, but they don't. Margaret was right: they all seem to believe it's today that's most important. "You gotta live today and tomorrow," she said. "Yesterday's over, that's the point. I think that too many people are concerned with age and they worry the rest of their lives about age and they just ruffle up and die. Somebody did an interview ith me in San Antonia and said "A lot of my listeners want to know why you haven't retired.' I said 'Why the hell should I retire? I'm in the best years of my life, I'm having more fun, I'm the happiest I've ever been. I'm with three crazy ladies and we've got a very successful show. We're having a ball. What the hell should I retire for? I've only just begun.'"
Each woman does her own familiar set--Margaret includes My Ideal and Tree in the Meadow, Rose Marie does a comedy stint with a few songs, Helen sings Green Eyes and Tangerine, Rosemary does Come On-a My House and Tenderly--mixed with a few new numbers like Billy Joel's Just The Way You Are, then the four join for a few verses of Together at the end.
Even when they're doing the old songs, they make them seem new. The group's enthusiasm never lags. And it's not only RoseMarie who does comedy: Margaret chats with the crowd boisterously, Helen does a nervous bit about the big band era, Rosemary clowns. It all comes together so naturally and so beautifully, it's hard to believe the act is only a year and a half old. 4 Girls 4 was born Sept. 6, 1977, at the whim of a producer.
RoseMarie remembers, "Bill Loeb, the producer, who was my manager at one time and was Margaret's manager and is now Cloon's manager, called us up and said "You wanna play a week at the Doheny Plaza Theater in Beverly Hills? Just get up there, do a 35 minute show, just do your part and then go home.' He'd known us all and he just put us together." They did more than 35 minutes and the 1-week engagement was such a smash that, after working around their individual schedules, they've managed to keep 4 Girls 4 going around the country for much of the year, usually to wildly enthusiastic, sell-out crowds.
"You know what a pleasure it is for me when they call me for Hollywood Squares, to say 'I can't do it. I'm gonna be on the road.'" said RoseMarie.
"But on the face of it, though, I didn't think it would become what it is," Rosemary said, to agreement from the others.
"I didn't think it would become the smash of all time," said Rose Marie, "but I remember Cloon telling me, 'I look forward to coming to work and it's ridiculous.' She said, 'I never felt this way before.'" "It's something very special about the four of us," Margaret said, "besides loving and liking and appreciating one another as a women and as performers, we're now--after one year--so close, (if) some other woman came in the group, it wouldn't work, and four other women doing it, it wouldn't work.
"We have kind of the same togetherness, the same thought, the same everything." That comes across on stage, as they affectionately call each other "Leather-lungs" (Margaret), "Dimples" (Helen), "The Mouth" (Rose Marie) and "Cloon" (Rosemary).
Off stage, it's even more obvious these four women have a very special relationship.